BUNDLE PRICE =  $45 DISCOUNT OFF $145 SRP!
Three Amazing 100% Analog Pressings!
Gilded Palace of Sin 100% Analog Mastered from Real Analog Tapes
Judee Sill and Heart Food 100% Analog 45 RPM Reissues FROM THE ORIGINAL MASTER TAPES
Mastered by Kevin Gray At CoHEARent Audio
Judee Sill and Heart Food on Double 45 RPM Vinyl for EXTREME SOUND QUALITY
Ultra-Quiet 180-Gram Vinyl Pressed At RTI
Beautifully Authentic Artwork Printed By Stoughton
Is this "The Gilded Palace of Sin" the album that made country cool? Former Byrds Gram Parsons and Chris Hillman picked up where they left off with Sweetheart of the Rodeo with this stunning masterpiece of a debut album by The Flying Burrito Bros. While Parsons had already pushed rock in a country direction during his brief stint with The Byrds and The International Submarine Band, The Gilded Palace of Sin is why the Burritos are widely viewed as the inventors of country rock. Indeed with this album, Hillman and Parsons carved a substantial place in music history as one of the most influential albums and bands of all time.
The astonishing Judee Sill was the first artist signed to David Geffen's Asylum Records, and Judee Sill the first album released on the label. Sill's music is intensely spiritual, redolent of both mysticism and divine imagery, yet grounded by great songwriting and a pure but powerful singing talent. Her songs impart incredible intimacy that is enhanced and not diminished by her sometimes complex string/orchestral arrangements (remarkably Sill arranged and conducted the strings/orchestra on her albums!). Sill's life was tragic personally and professionally. Her father and brother were killed when Sill was young, and her tempestuous relationship with her alcoholic (and remarried) mother resulted in her leaving home at 15. She committed robberies and began a battle she was destined to lose against drug addiction. When stardom didn't follow the critical acclaim of these two albums her career never recovered. Sill was dead in 1979 at just 35. The brevity of Judee's musical legacy is vastly outweighed by the emotional power in these two extraordinary albums.
Mastering Notes
The Gilded Palace of Sin was 100% Analog Mastered by Kevin Gray at CoHEARent Audio from the best source available- a phenomenal sounding 1/2″ safety copy of the original stereo master tapes. All of the top-end energy and "snap" of the original A&M LP is preserved, while the bass foundation is fully restored to make this new Intervention reissue the definitive listening experience for this classic LP! Judee Sill and Heart Food were 100% Analog Mastered directly from the original analog master tapes by Kevin Gray at CoHEARent Audio. The master tapes are in fine shape, and listeners will be blown away by the increased inner detail and three-dimensionality of these achingly gorgeous recordings. These new Intervention reissues represent THE definitive listening experience for these classic LPs!
---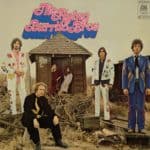 The Flying Burrito Brothers
The Gilded Palace of Sin
Intervention Records - IR-012